Perrin's Picks – Heart Wrenched by Kate Crew
Is there anything better than the touch-her-and-die vibes? I now know the answer is "yes"… when he brings out touch-him-and-die vibes in her too! Here's my review of the phenomenal dark romance debut of Kate Crew.
Disclosure: Some of the links below are affiliate links. This means that, at zero cost to you, we will earn an affiliate commission if you click through the link and finalize a purchase.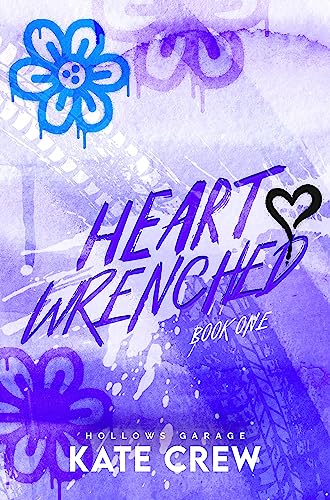 Steam Level: 🔥🔥🔥🔥
Want to know what this means? Click here for our Steam Level Guide
Quick Notes:
Some of the sexiest dirty talk I have ever read
Good girl! Bad boy! Dark & Dangerous! Hot fast cars! Swoony romance!
Couldn't put it down
Phenomenal chemistry and sexual tension
Enemies to Lovers
Blue collar MCs
Ridiculously good "Touch Her And Die" Vibes (and "Touch Him And Die" Vibes!)
Thrilling, dramatic plot and action
Wonderful secondary characters and friendships
External conflict
CWs: Violence, Nonconsensual distribution of nude photographs / video, Toxic Friendships, Near Death Experience
---
I had the pleasure of beta reading this book, and holy $#@!*&%$ bad boy MMC Ransom has been haunting my dreams in the best way ever since.
Like, seriously:
My body is all yours. For fighting, for fucking, for anything you need it for, it's all yours. I'm all yours.

-Heart Wrenched, Kate Crew
Do you even need to read the rest of my review to know that this book is HOT AF?
The first chapter starts out when the main characters are in high school, with a bit of (rather traumatic) backstory that lets us know how our main characters came to hate each other. But as soon as we hit the present day, Quinn and Ransom are thrown back together, and the sparks fly immediately. The tension between them is so good, the banter so natural, every moment between them dripping with longing for each other…I couldn't go to bed until I made sure that these two got through all of the intense, scary, heartbreaking shit thrown at them to get to their HEA! I was totally immersed in the story, and fell in love with Ransom, Quinn, and the absolutely precious Hollows Garage family.
The sex scenes….words about fail me, and even my extensive vocabulary of curses doesn't do it justice, but y'all, this is book is seriously FIRE! The dirty talk within the scenes completely melted me into a pathetic little puddle. I basically need everyone I know to read this book now because I neeeeeed to gush with someone about the three dozen absolutely delicious parts of this book that completely fucking W R E C K E D me!
And the romance! HOLY SWOON! Not only does he actively go out of his way to take care of her and make sure she's safe, but he also gets out of her way right when he needs to and doesn't interfere with her taking care of her own shit. In fact, he admires and adores her strength. That's a hard balance, but man, Kate Crew gets it just right! I can't get enough of a man who falls in love with the woman for who she is and not just how she makes him feel, and who genuinely wants to worship her and make her world better together.
This is one of my favorite reads in a while, and I'm so excited for more from Hollows Garage and Kate Crew!