Perrin's Picks – Wheeler by Colleen Charles
…or maybe this should be called How Colleen Charles is solely responsible for me now liking sports romances
Disclosure: Some of the links below are affiliate links. This means that, at zero cost to you, we will earn an affiliate commission if you click through the link and finalize a purchase.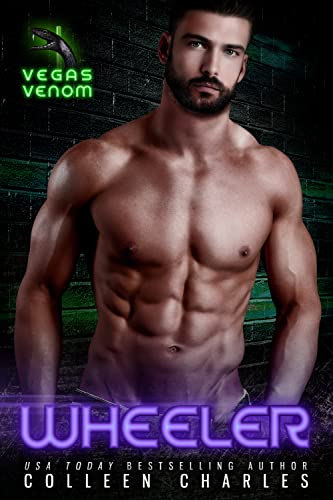 Steam Level: 🔥🔥🔥🔥🔥
Want to know what this means? Click here for our Steam Level Guide
Quick Notes:
Hockey (but not enough to be boring for non-hockey people like me)
HOT AF
Second Chance
Independent and Lovely FMC
Super Swoony MMC
BEARD!
Exhibitionism! Waterfall Sex! Size Difference!
Literally Laughed Out Loud
Large Cast of Amazing Secondary Characters (including confident plus size model, LGBTQ+ BFF, wonderfully charming secondary character learning english, adorable kid, sweet mom, evil club owner)
---
Let me start by saying I'm really not big into sports, and I know next to nothing about hockey. I admit that I'd never read a sports romance at all until reading Colleen's work, but she's opened me up to a whole new world. I started reading the Vegas Venom Series on Book two (a bad habit of mine) but even still, I didn't have any trouble coming in on the second book because there's plenty of context for each book to read as a standalone.
Whether one cares anything at all about hockey, the steeeeam in this book, HOLY HELL! Her sex scenes are excellent, and definitely not something I can read in public, and not just because I have a shit poker face lol. Colleen absolutely excels at building the most delicious sexual tension, which is extra impressive considering how much banging there is in this book (I mean damn, from literally the first chapter!) My favorite steamy bit was the library scene, and I would probably recommend this book on the merit of that scene alone. You don't get much better than devilishly hot sex, dirty talk that makes your knees weak, and considerate and respectful conversations about consent and kinks all rolled into one delicious story. 
Even more impressive is the level of swoon in this romance. Anders is everything you could want in a book boyfriend, and the intensity of his pining for Stella melted me. I loved getting to see how they met, and then how they reconnected years later after the time jump when he was still hopelessly in love with her. I mean sure, in all that time of course he idealized her a little bit, but getting to see him genuinely fall for her even more after reconnecting was serious next level swoon. A huge test for me is if the MMC reveals reasons for his love of the FMC beyond just how she makes him feel and what she does for him, and Anders delivers in spades! Haha, I'm so funny with my Vegas humor! Is there anything that gets to my heart faster than a man who knows how to examine his emotional hangups and puts real effort into making a grown-up relationship work?? I genuinely love these characters together, and I adore how they fit into the big wonderful cast of characters in the Vegas Venom family.
Wheeler was a wonderful, funny, and super hot read, and I'm really looking forward to diving into more of the Vegas Venom Series!
Later y'all, I'm off to read book one now lol!