Perrin's Picks – Stranded With the Alien King by Lindsey R. Loucks
13 year-old X-Files-loving Perrin would be soooooo not surprised by my obsession with this book lol
Disclosure: Some of the links below are affiliate links. This means that, at zero cost to you, we will earn an affiliate commission if you click through the link and finalize a purchase.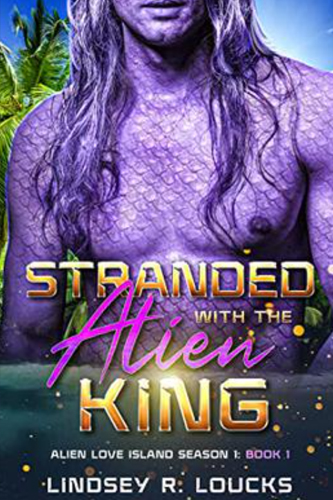 Steam Level: 🔥🔥🔥🔥
Want to know what this means? Click here for our Steam Level Guide
Quick Notes:
AMAZING Chemistry! Suspense! Swoony Romance! Mysteries!
Hot Creative Alien Anatomy!!!
Sooooo much delicious tension, and funny & sexy banter
Enemies to Lovers
Accidental Reality Show Contestants
Badass Independent FMC
Major "Touch Her And Die" Vibes
Intricate mysteries and hidden clues
Hilarious Honeymoon Suite Accessories that made me snort out my drink
Incredibly well-developed settings, lore, mysteries, and secondary characters
CWs: Grief & Loss in MC Backstories (Spouse and Child Loss, but no loss onscreen), Snakes, Some Violence
---
Nera & Maxx have the kind of chemistry that you feel building deep in your soul along with them, and I swear Lindsey R. Loucks is like a romance magician! The sensory descriptions of the tension between them is nothing short of sorcery, and the entire story is just so incredibly immersive. I had actual visceral responses to the action and suspense, and I was genuinely scared for them a few times. Even the minor characters are so well-developed, and the mysteries underlying the plot pulled me in just as much as the swoony romance between the MCs!
I'd consider this book a slow burn, but oh my gracious, what a burn it is! When we finally get to the sex scene (featuring some super creative and surprising anatomy!) it more than lives up to the hype of getting there. I cannot say enough about how thoroughly the tension is built between Nera & Maxx, and how satisfying the sex is once we get there! I swear this kind of payoff is what I LIVE for!
Don't be fooled though, while the sexual tension gets top billing in Stranded With the Alien King for me, the story itself is a masterpiece! There is just about some expert level mystery clue-dropping in this book, and the reveals are so well done! Lindsey R. Loucks does a fantastic job of balance with this book, giving us a unique and immersive sci-fi world with intricate puzzles to work out, while still maintaining an exceptionally hot, fun and easily accessible story. Keep your eyes peeled for the clues, and don't feel bad if you squeal out loud when you catch them, because I totally did lol!
I ADORED this book, and I seriously cannot wait for more Nera & Maxx in book two!
For now, I'm off to read the free prequel (Grab your FREE copy of Tangled with the Alien King here!)