Disclosure: Some of the links below are affiliate links. This means that, at zero cost to you, we will earn an affiliate commission if you click through the link and finalize a purchase.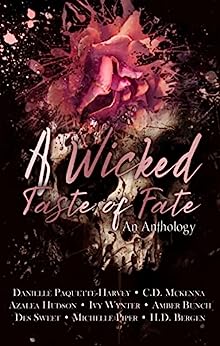 ". . . the Devil doesn't come dressed in a red cape or horns. He comes as everything you've ever wished
for. . ." ~unknown~

Love is intoxicating. It is that feeling we all yearn for, even in the darkest of places. Love is what binds us together and what we act on.
In a Wicked Taste of Fate, the authors craft stories that emphasize on the power of love in all forms, both wicked and charming.

And all for a cause.

All proceeds from this anthology will go to the CHU Sainte-Justine Foundation.

Guided by its engagement, solidarity, authenticity and responsible leadership, the CHU Sainte-Justine Foundation's mission is to engage the community and support the CHU Sainte-Justine in its pursuit of excellence and its commitment to providing children and mothers with one of the highest levels of health care in the world, now and in the future.

Treat yourself to a good book, and help provide for better children care!
Check out what readers are saying about A Wicked Taste of Fate
⭐⭐⭐⭐⭐
"I was so excited receiving this anthology and it has not disappointed!

An extraordinary collection of amazing authors that have come together for a great cause. This book has it all, and with them being short stories they're fantastic for quick reads working all the senses!" 

– Goodreads, Granaha
⭐⭐⭐⭐⭐

"What I like about anthologies with different authors is that you get to taste different flavor of writing and choose to have more without feeling overwhelmed.

This collection of "twisted" story is beautiful. It feeds that darkness that I sometimes crave.
All the stories are worth reading and everyone who likes dark romances should give this collection a try."

– Goodreads, Jessie Winterspring