Hot & Sticky: A Passionate Ink Anthology
Disclosure: Some of the links below are affiliate links. This means that, at zero cost to you, we will earn an affiliate commission if you click through the link and finalize a purchase.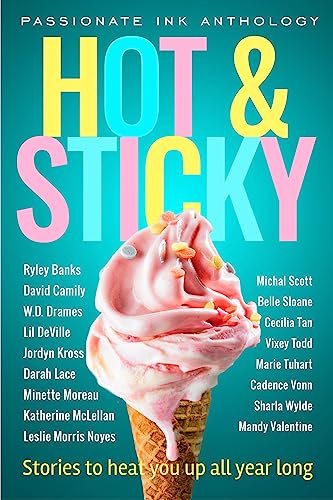 Set your summer beach read list on fire with seventeen scrumptious stories in one BIG package.

Join Passionate Ink's celebration of all things summer with their release of "Hot & Sticky." These steamy shorts will heat you up, wet you down, and make you melt. From historical dalliances, fantasy monsters, shifters, and sci-fi, to fated mates, friends to lovers, and parties of two (or why choose), there's a perfect flavor to fill your ice cream cone.

Authors Ryley Banks, David Camily, Lil DeVille, W.D. Drames, Jordyn Kross, Darah Lace, Katherine McLellan, Minette Moreau, Leslie Morris Noyes, Michal Scott, Belle Sloane, Cecilia Tan, Vixey Todd, Marie Tuhart, Mandy Valentine, Cadence Vonn, and Sharla Wylde have joined together to create this scorching summer-themed collection. Proceeds for this anthology will be donated to ProLiteracy. This organization is the leading resource and champion for adult education and literacy worldwide.


Please note: **We are not affiliated with these charities, but are a collective of authors who hold human rights, dignity, and the ability to love and live without fear incredibly sacred.**