Worthy: A Pride Anthology
Disclosure: Some of the links below are affiliate links. This means that, at zero cost to you, we will earn an affiliate commission if you click through the link and finalize a purchase.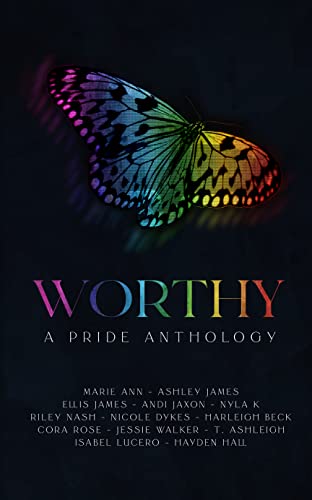 Worthy: A Pride Anthology is a collection of original, brand-new short stories brought to you by thirteen incredible authors. Each story touches on the common theme of LGBTQ+ Acceptance.
Half of all proceeds from this anthology will be donated to the Trevor Project; an LGBTQ+ mental health organization.
Pre-Order now and it will be delivered to your Kindle on 6/1/23!
Participating authors: Marie Ann, Ashley James, Ellis James, Andi Jaxon, Nyla K, Riley Nash, Nicole Dykes, Harleigh Beck, Cora Rose, Jessie Walker, T. Ashleigh, Isabel Lucero, Hayden Hall.