Disclosure: Some of the links below are affiliate links. This means that, at zero cost to you, we will earn an affiliate commission if you click through the link and finalize a purchase.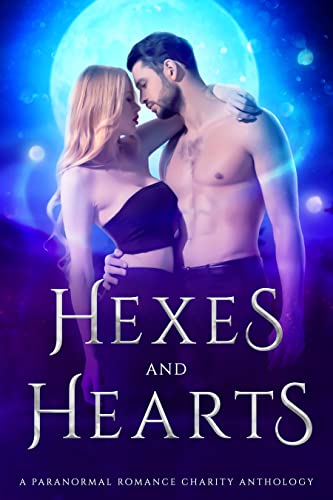 Fall in love with witches, feel the connection with shifters, and uncover hidden depths with vampires in this spell-binding collection of paranormal romances.
There's something for everyone within the pages of this fun, flirty, and uplifting supernatural anthology.

Included in Hexes and Hearts:
– Her Viking Werewolf by Demelza Carlton: A Viking witch meets her match…only he's a werewolf. or She hexed him, so he took her hostage…but now they will need to work together to survive…
– Summer Break For Awkward Bears by Laura Greenwood: No polar bear's summer holiday is complete without a beach romance.
– A Cocktail Of Sin by Arizona Tape: Angels and demons shouldn't mix, but that's what makes the drinks, and the romance, taste so good.
– Fanged at First Sight by Cali Mann & Mia Harlan: She's been raised to hate vampires, but when a too-hot-to-handle vamp saves her life, she may just change her mind.
– Goddess Destined by Allyson Lindt: She stopped at the diner for a milkshake and a magical bladesmith. She didn't expect to find her destiny at the pinball machine.
– My Sexy Warlock Weekend by Gemma Cates: A love witch with a glitch and a warlock with a past have a wickedly wild weekend.
– A Vampire's Bite by R.L. Wilson: I'm lost in New York, my fated mate on my mind. The first bite into Lauren will make the beauty mine.
– Love Glare by Danielle Jacks: What happens when your vampire best friend takes someone else to the Academy Cursed Ball? A werewolf has to do the only thing he can… Find his own date?!?

All proceeds from sales of the Hexes and Hearts anthology will be donated to the Hug on a Tray charity.